Brand new for 2017 is the Chub All in one Cook Set. Aimed at carp anglers, it's also ideal for the long session/over night, or over weekend, sea angler that prefers to eat wholesome warm food rather than live off motorway service fare. What's more, nothing beats a bacon sandwich washed down with a hot, fresh cuppa on the beach. Mind you, with this set, I've become more adventurous and started cooking steaks with potatoes and peas, pasta, proper noodles and much more. And if you think most anglers can't be bothered cooking, then how come I get other anglers wandering up just to see what's on the menu when the cooking aromas drift off down the beach?
The set comprises a 0.9-litre kettle, a 7.5-inch frying pan, plus two cooking pots of 2.2 and 1.2-litres. Made from aluminium and heat resistant silicone, and finished in a smart grey and orange finish, the pans have a non-stick coating that's also anti-scratch.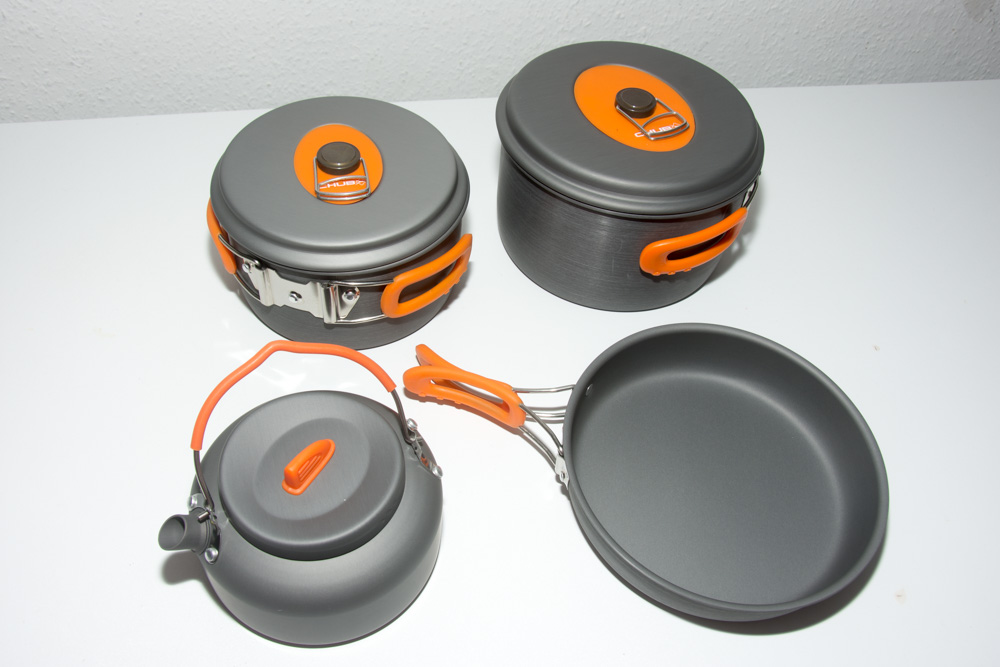 What's more, the pans are very compact with the frying pan, smaller pot and kettle, plus lids, all fitting inside the 2.2-litre pot for transportation. It's very lightweight too. I weighed the packed unit, in it's supplied carry bag, at a little under a kilo. It's small enough, and light enough then, to go inside a rucksack or tackle box. Alternatively, leave it in the car for pre and post fishing meals, or for use when you've got the kids out for the day.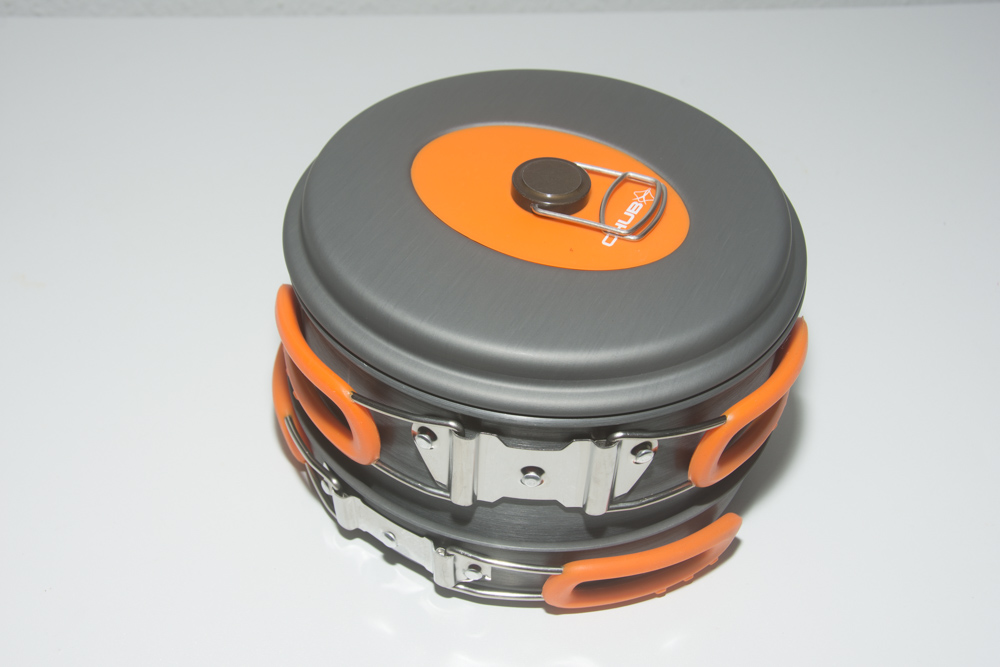 In use, I've found the pots and the kettle ultra tough, quick to heat up, and easy to keep clean, even after cooking steaks, bacon, sausages and burgers that generate fat that inevitably spits all over the place.
The recommended retail price for the 4-piece all in one Cooking Set is £49.99, but I had a quick look on the Internet and found them selling for under £45.
Chub also do a 3-piece cook set, that's a 1.4-litre kettle, 2.2-litre pot and the frying pan at £39.99, and a 2-piece set comprising a 1.7-litre pot and the frying pan for £34.99.
I think this is a cracking bit of kit that suits a wide market including carp anglers, sea anglers, and trout anglers who camp, or anyone who wants some decent grub cooked up from the back of the car.