I had realistic, but somewhat high-hopes for January and February. Get some surf fishing in, get up on the rock ledges for the late conger, get a day or two's carp fishing in, maybe a crack at a river grayling. It didn't quite work out like that.
Three days before New Year, I was out in the surf taking advantage of a brief window in the weather and had a decent three hours or so picking off a few flounder and small turbot. This in daylight. I figured, get the New Year over and done with, and there was a chance of some decent flounder by fishing the night tides, especially on the smaller neaps when the fish don't move too far. The weather had other ideas. Gale after gale, storms in between, sea the colour of mixing cement, a massive amount of floodwater inshore that was pouring out of my local estuaries, plus huge amounts of floating weed killed any possibility of surf fishing. The huge sea swells also put paid to any thoughts of rock fishing. Storm Georgina blew herself out, she being the seventh storm of the winter so far, then followed ten days of mainly westerly gales. February came in with no positive change. Since the turn of the year, its been constant bad weather with barely a day calm enough to fish here on the Gwynedd coast.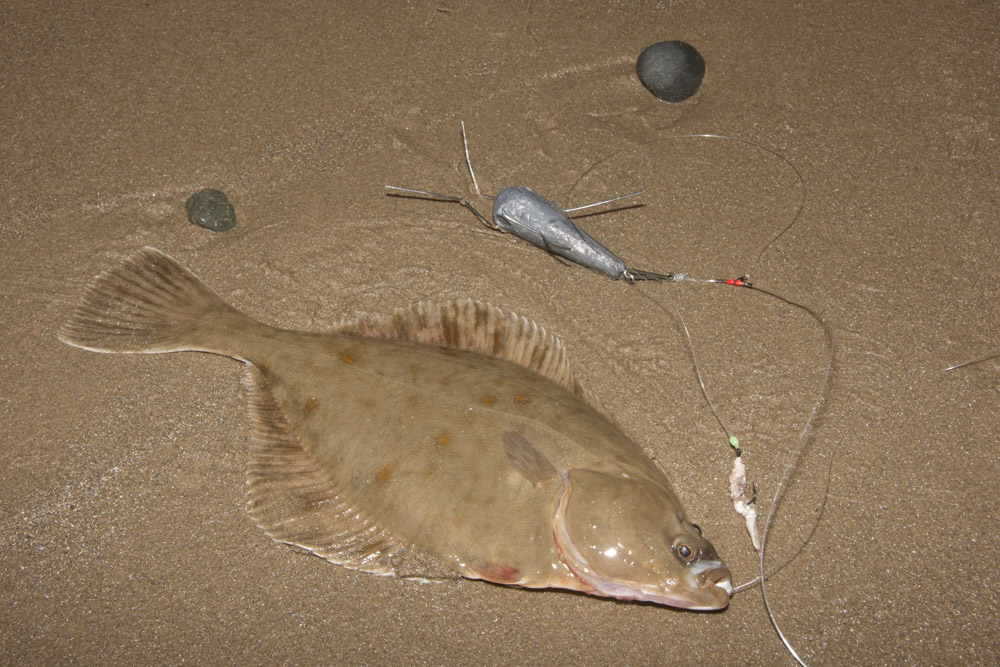 Rainfall has also been way more than normal, the rivers swollen and turbid, so the grayling fishing went down the pan, too!
I checked my ever faithful fishing diaries and January 2018, for me, goes down as one of the wettest and windiest I've experienced here locally in the past 40-years. I've had this confirmed by a couple of old farmers I know, who work the land locally, too.
I can hear some of you calling me a "fair weather" angler. I've never been a fair-weather fisherman, and while I still have the physical capability, I never will be. The problem is, that when the text books tell you to fish a rough sea, a lot gets lost in translation. On the shallow surf beaches I tend to fish, at high water, a depth of more than 6-feet is rare. You get a persistent strong onshore wind blowing and the surf tables can be 3 to 4-feet high or more and be breaking more than 200-yards out. Totally unfishable! Fish move out in these conditions leaving nothing to fish for. If you've a deep-water, steep-to beach with a depth over 12-feet or more over high tide, and just a couple of waves breaking fairly close in, then that's a different thing and the fish will stay within casting range and its worth having a chuck or two. Alas, that we don't have. Shelter from the west is also scarce on my section of coast, so you can see the limitations. In a nutshell, then, the sea fishing was a write-off.
The first week of January saw my lad and I get a daylight carp trip in. We set up ok, but by midday had to pack the protective bivvy down as it was that windy we were about to lose it. We fished on until well in to dark, and in the rain, but saw nothing move and had no bites. To be honest, it was what we expected, and a water temperature reading of just over 4C didn't help.
I went back on my own the third week of January. The lake was bursting at the seams after weeks of heavy rain and melting snow. Once the rods were out and my home set up, I checked the water temperature. 3C, and dipping my hand in it felt like it, too. This dampened my spirits a bit, but just after midday, the alarm screeched and I set the hook in to something that wanted to find the sanctuary of a dead weed bed. I coaxed the fish from the lilies with side strain, let it have its head in safe mid water, then eventually eased it over the net. A fit and healthy mirror of 9lbs 10ozs. Any winter carp is a good carp, especially on my local water which can be very hard, and I was chuffed to get off the mark for the year so early. It was the only bite I had. The photo is not great, and being alone taken on my phone, but it is a pretty looking fish.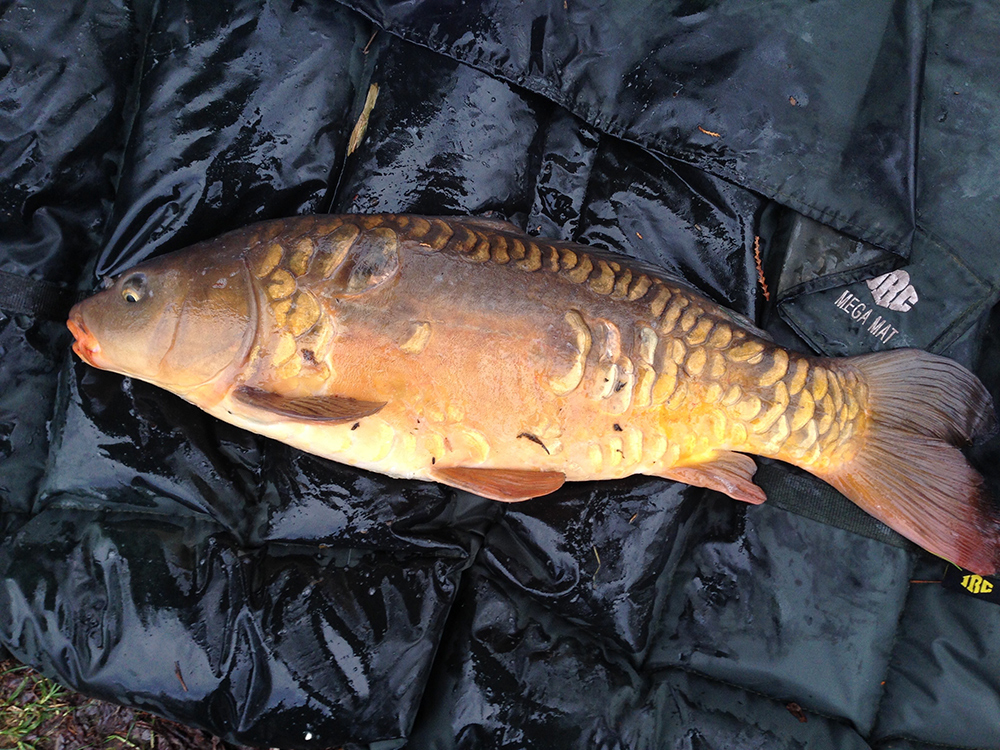 We wrestled a couple of jack pike out on lures as January gave way to February, and I had night whiting bash, on a night when the wind and rain briefly relented, but that's as much as I've managed, so far.
Having learnt the hard way not to fight the weather too much, if I can't fish, I set to and get some fishing chores done. Listening to the football on a midweek night, or on a Saturday afternoon, I've restocked my fly box. Mostly with proven patterns for the waters I fish, but also with a few experimental patterns of my own that are spawned from turning rocks over by the lakeside and seeing what moves. I think on many waters, immaterial of whether its stocked but overwintered fish, or natural browns, that the fish become wary of overly used patterns such as Hare's Ear variants, Pheasant Tail nymphs, Viva's, Montana's, and pulled lures such as Cats Whiskers, Damsel nymphs and Black Tadpoles, which are all overly popular flies on a lot of waters, to name just a few. Having something a little different, I find, can often trigger a bite when the "proven" patterns are struggling to find interest.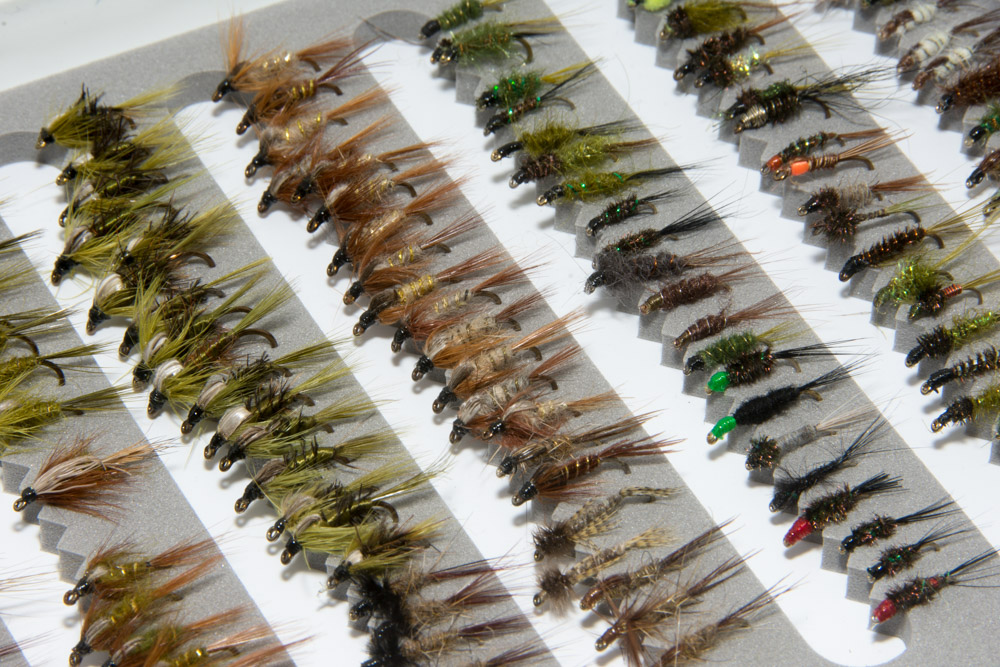 I've also done a little more research on species or fish types I've yet to catch, but want to target over the next couple of years. For species hunters, there's a moral problem to wrestle with as to whether to include freshwater hybrids as a separate species. My opinion is this, if its born by natural conception in a wild environment, then it is a legitimate species. I need a F1 carp, for example, I'm checking out a water not too far away where they supposedly breed naturally. A hybrid is neither a true carp, nor a true crucian, but a mix of the two, therefore I see no issue with classifying it as a separate species and a legitimate target. For the record, a F1 carp has only two barbules, whereas the genuine common carp has four. Also, there is a difference in the number of lateral line scales, the F1 having a higher scale count than the crucian. My all-time species list is for my own pleasure and motivation, therefore, within the bounds of common sense, a hybrid counts.
Another hybrid I'm trying to track down is a rare one, a chub/roach hybrid, often referred to as a "Rub". It's rare geographically, by all accounts, and I'm struggling with this one to find a location that might just yield one.
I'm adding this paragraph just a few hours after Storm Emma ripped through Holyhead Marina causing millions of pounds worth of damage to boats, sinking many and breaking others free from their moorings to dash them on the rocks due to easterly winds in excess of 80mph. Recent days have also seen heavy accumulations of snow throughout much of the UK and Ireland with severe general disruption. There's no real sign as to when this weather pattern will end and spring finally arrive.  When it does, let's hope it proves productive for all us "fair weather" anglers.