Although I've fly-fished for decades, I'd never had the chance to fish one of the big Midlands reservoirs, so took the decision, along with my lad, to book a day at Draycote and put that right. I'd wanted to specifically fish Draycote for some time, and with us being in the area working, it was an ideal opportunity to tag a day on.
Typically, the weather was changeable, even for spring, with a surprisingly chilly west wind gusting up to 30mph. It was mostly cloudy, but when a brief break in the clouds came, there was some warmth in the sun. There was obviously a decent wave on the water with white caps further out.
Crossing the dam wall and looking at the sweeping view of the reservoir, you realise just what a huge chunk of water it is. Quite daunting if, like me, you're used to fishing mainly natural lakes up to 30-acres or so, not the 600-acres underwater at Draycote.
We decided to start on the Toft Bank. I chose to set up with a black nymph on the point, and a green tinsel Diawl Bach on the dropper. With the howling wind I figured three flies might be risky re possible tangles. The wind was on your right shoulder, and it made casting difficult. I quickly got used to the side wind and picked my moments to cast. I'd made four or five casts and was watching the line bow as it drifted right to left when it shot forward and I lifted in to a nice fish that fought incredibly well stripping me in to my backing on it's first run. A dogged fish that ran parallel in front of me, and took line several times. I was surprised to see a fish around 2lbs or so slide in to the net, as I was expecting something twice the size for the fight it gave. My point black nymph fly neatly sat in the scissors of the fish's jaw.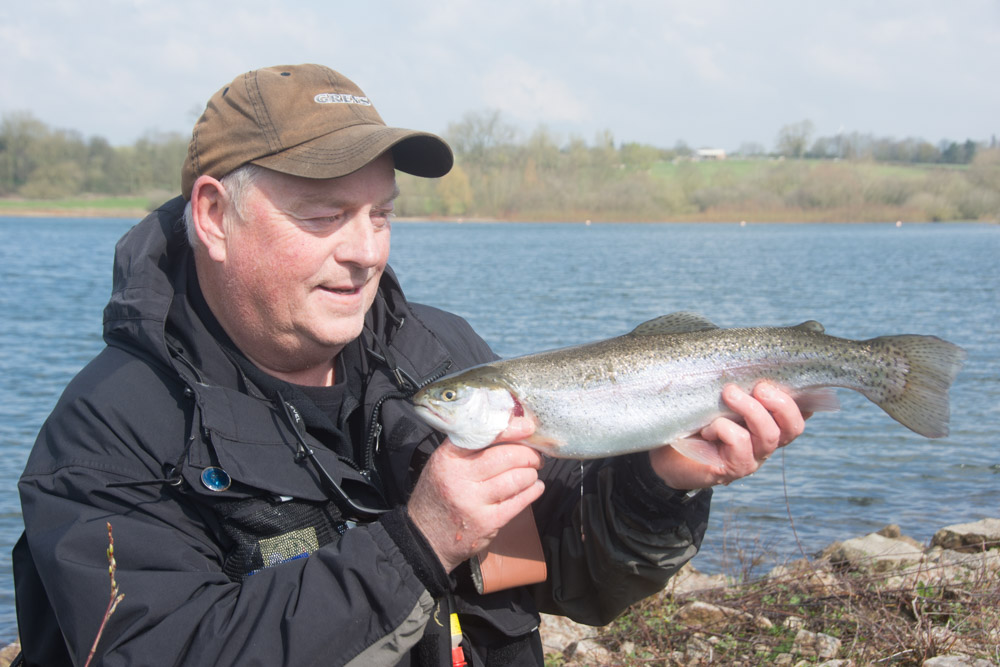 For some reason the fishing then went quiet, partly I think, because the water was colouring up with the wind and swell. We decided to move down in to Biggin Bay with the wind then stronger, but at least on our left shoulder. There was a good chop and wave running here, so much so that it was almost impossible to see any fish show on the surface, but the water clarity was way better and clearish here.
I stuck with the same fly patterns initially and accounted for another fish around 2lbs on the dropper Diawl Bach. This on a floating line. Mike Jr, only 50-yards away from me, was struggling to get bites on the floater for some reason, but switched to an intermediate to get deeper and quickly hooked up in to another nice fish that looked a little better than 2lbs. He too, was finding these Draycote fish feisty, his fish also battling on far longer than you'd expect. In fact, I say they are more like a sea trout of comparable size re strength and power. An overwintered rainbow from Draycote would really surprise you!
With the strength of the wind really pushing the floating fly line on, but still getting me the odd bite or two, I switched to a gold head nymph, this to get the point fly deeper, but also to slow the drift down a little. This got me an instant bite just as the fly was drifting up where the deeper water began to shallow as it neared the bank. This fish hit the Diawl Bach hard boring off towards the middle of the reservoir and dragging lots of line off the reel. It got its head down and really thumped my 5-weight rod, then came vertically up through the water column making two big leaps, twisting and turning in the air, before splashing back a fair way out. I had to add some palm pressure to the fast spinning reel to tire the fish a little quicker. I saw the fish in the surface briefly before it chased off again, my hand on the landing net proving premature. Eventually it slid in to the net and was a fat and prime 3lb fish, heavy behind the head. Again, the fight these Draycote rainbows give is incredible for their size.
Half watching Mike Jr over to my left, I watched him first miss a fish, then his rod dip as another fish whacked his black and red buzzer. This was another fish that looked like it was getting close to 3lbs.
We had a late sandwich on the blank mid afternoon, then got back to it. Mike stayed in virtually the same position, but I was fishing a spot for 20-minutes or so, then walking on about 30-yards and casting again covering the bank down towards the beginning of the Draycote Bank. I picked up two more fish on my walkabout, plus missed a few more pulls too. We both noticed the fish had "gone off" a bit though, maybe because the cloud had cleared a little and the light was now brighter. However, going deeper on an intermediate line found me no more fish.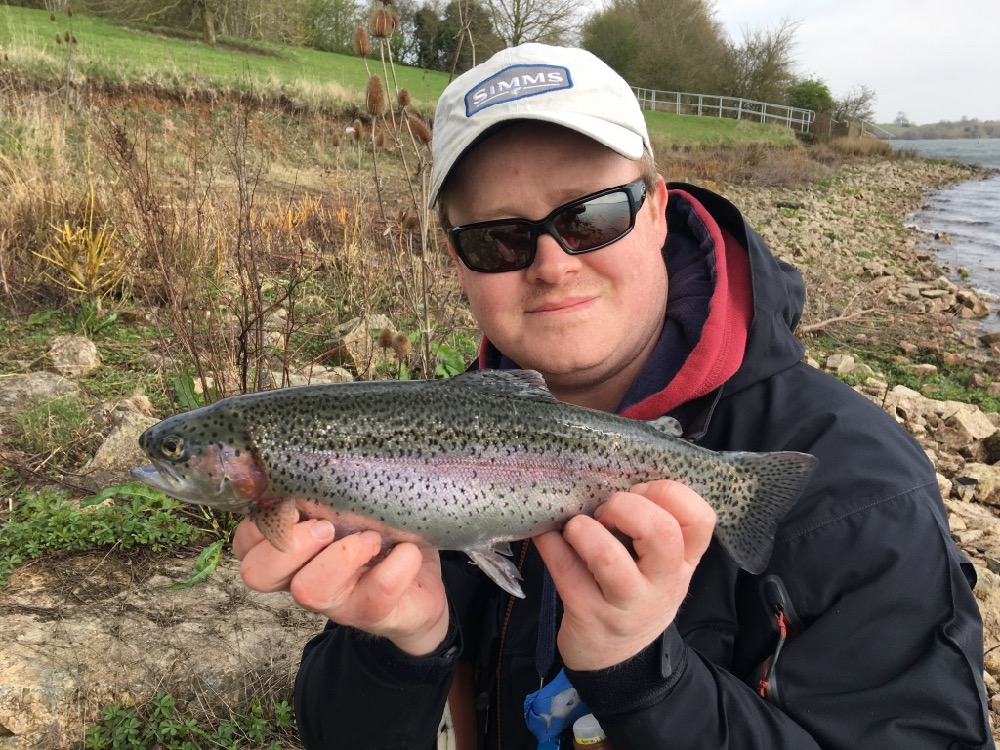 We decided to finish the afternoon's last hour back at Toft Bank where Mike Jr hit another nice rainbow around 2.5lbs, but the best I could muster was a single pull which I missed. We were both slightly disappointed as we both failed to see a brown trout take our flies, but that can wait for another day. There are also fish in to double figures taken here, so there's plenty to go at.
Reading the catch report for that day, a couple of the regular bank anglers did way better than we did, but for our first time on the water and fishing "green", we were pleased enough. I'm never disillusioned with rough conditions, as for trout a roughed up water can fish incredibly well, but casting all day with a very strong side wind is never easy, but trout often follow the wind, so you need to sometimes ignore comfort and go where the fish are. A lot of trout anglers reckon that fish always follow the wind and tend to congregate on the banks the wind is hitting. I find this a somewhat sweeping statement, and in my fishing, though always aware of fishing the windward edge, not all trout follow this pattern and you'll get fish from a lee bank too, especially if the wind is cold.  Much depends on atmospheric pressure, and whether the wind has been in the same direction for several days. A wind from the same direction over several days will concentrate the fish, but a constantly changing wind direction sees the fish more evenly spread.
We both learnt a lot from just a few hours, and have a better idea now how we'd fish it next time. Without doubt, a new and exciting experience that we'll repeat again in time to come.  May onwards can give great fishing and we intend to fit in a trip in then, plus we'd hope to organise an autumn trip too, when the bigger fish come tight inshore and take fry patterns. We both fancy taking a boat out as well, as the fishing can be spectacular on the buzzers and dry fly.