It's traditional for me, at this time of year, to take a look back at my year's fishing. Some of you have kindly also asked why I've not been as active, fishing report wise, as I normally am over the course of the past 12 months.
Briefly, 2017 will not be a year I'll look back on fondly. Illness within the close family throughout the year has obviously seen me focused elsewhere for much of the time and this naturally has limited my opportunities to fish. Also, like many of you, the weather, especially in the west and here in Wales, has been difficult since late June with repeated flooding, big seas and floating weed. I can remember few years as wet as 2017 has been. I've only had five day's boat fishing all year, the rest got cancelled due to bad weather. The trout lakes I've fished through the summer and autumn have also been as much as three to four feet over normal levels. I've never been a fair weather angler, and never will be, but I've learnt battling prolonged and difficult conditions rarely produces anything of note.
However, I have had a few highlights through the year and we'll look in more detail at how things panned out.
I started the year on my local beaches with steady catches of flounder and whiting, but the dabs last winter were few and far between. I've no idea why. Chatting to other anglers, this was an issue in some other areas, too. The trout season began in March wet, windy and cold, and it took a few trips to see the fish more inclined to feed on my home waters, but I had a few fish to a little over 2lbs. I fished Packington in late March taking fish to 3lbs, then fulfilled a bit more of my bucket list by fishing Draycote on a very windy day and picking up a few more trout to 3lbs. I'd never bank fished a "big" water previously.
April saw me aboard Gethyn Owen's My Way out of Holyhead and recording spurdog in to double figures. I swapped disciplines in early June and picked up carp to 14.5lbs, then followed this up with a very special 10lb 10oz pollack, again aboard Geth's My Way when fishing on a lumpy day just a couple of hundred yards off Holyhead Breakwater. I was fishing light for smaller species and the fight with the big pollack was exciting, to say the least. I think fishing light was the reason the pollack took in the first place, as this ground gets heavily fished with conventional tackle.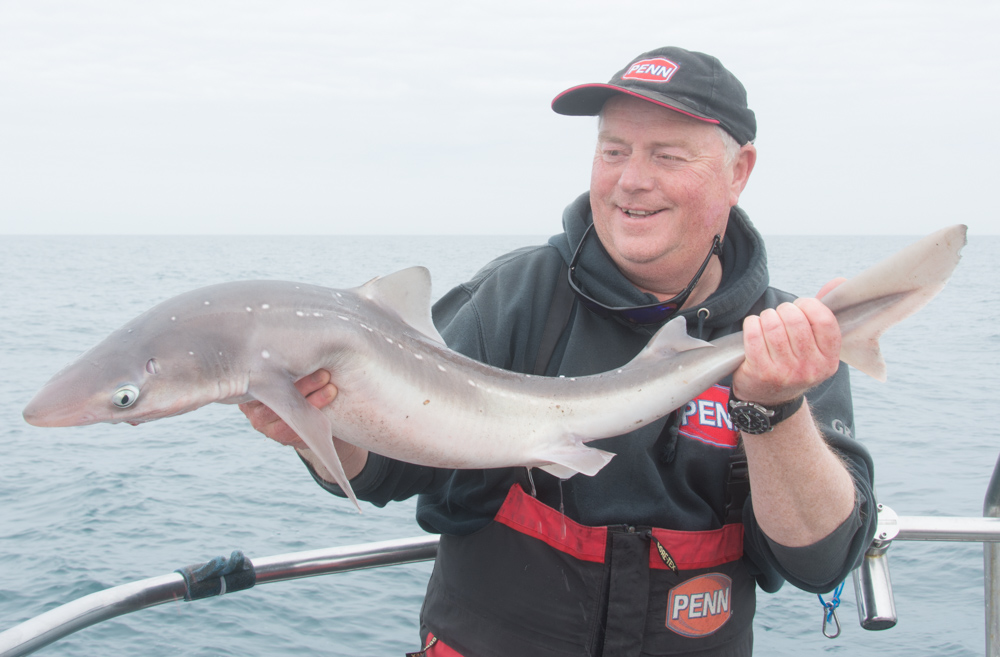 Late July saw a two-day trip to Union Hall in southern Ireland to fish with Tom Collins. The first day is traditionally a shark day. Fishing with my lad, Mike Jr, and friends Trevor Phillips and Tom Wain, we were joined by another fishing buddy Mike Hennessey from Kerry, and his son Conor. The lads had a collective of over 20 blues, Mike Jr taking a couple of his fish on a light spinning rod and reel you'd normally use when lure fishing for bass. I gave them a clear deck until late afternoon, then picked up my 12W fly rod. Tom had the blues pulled tight in to the stern of the boat with copious amounts of chum and I was able to select first a smaller blue in the mid teens to warm up, then flicked the fly in front of a fish that was way, way bigger. Twitching the fly back slowly, the blue cruised in, slowed, took a good look at the fly…then sucked it in. It was an epic scrap that took around an hour and saw Tom lift a fit and mean, lengthed and girthed 65lber over the gunnels for tagging and a quick picture. That's the second blue over 60lbs on the fly I've had with Tom and I was chuffed to get it. The second day we spent targeting species bagging scad, mackerel, coalfish, pollack, cod, ling, cuckoo and ballan wrasse, dogfish, huss and launce. Driving home the next day, we briefly stopped in at a mullet mark for a couple of hours and I hooked and lost a lump of a fish on bread after a short fight when the hook pulled. I saw the fish as it took and my guess would be closer to 6lbs than 5lbs, but that's fishing.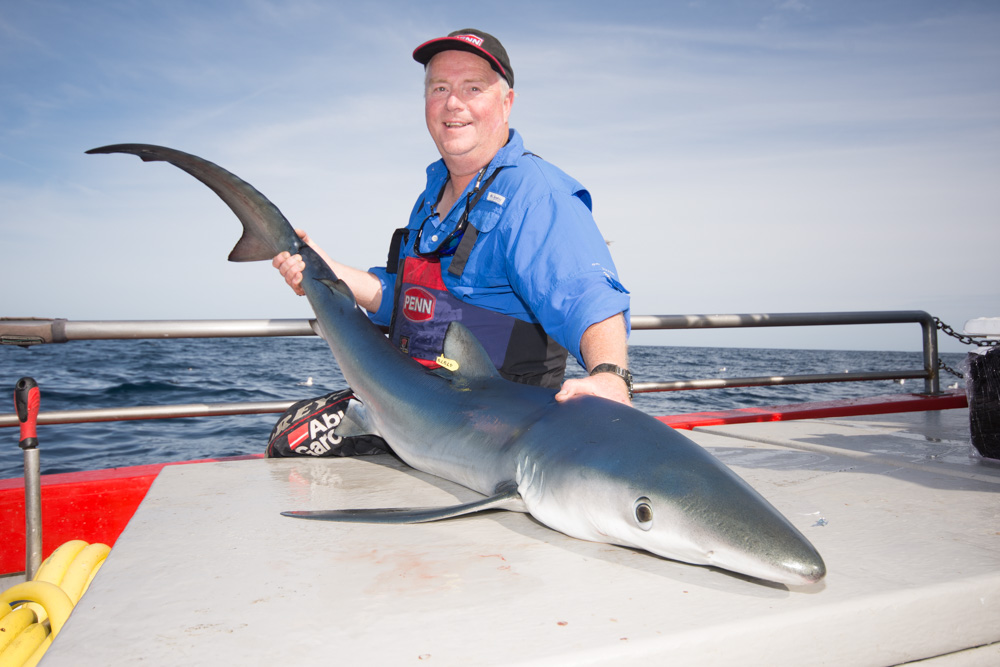 August saw me catch a PB brown trout on the fly of 2lbs 1oz, which I'd spotted sipping on the edge of a scum line and I got my cast spot on first time to hook it, which was very satisfying. The general trout fishing was ok, but my local lake was now way higher in August than it had been at the end of winter due to the heavy and persistent rain.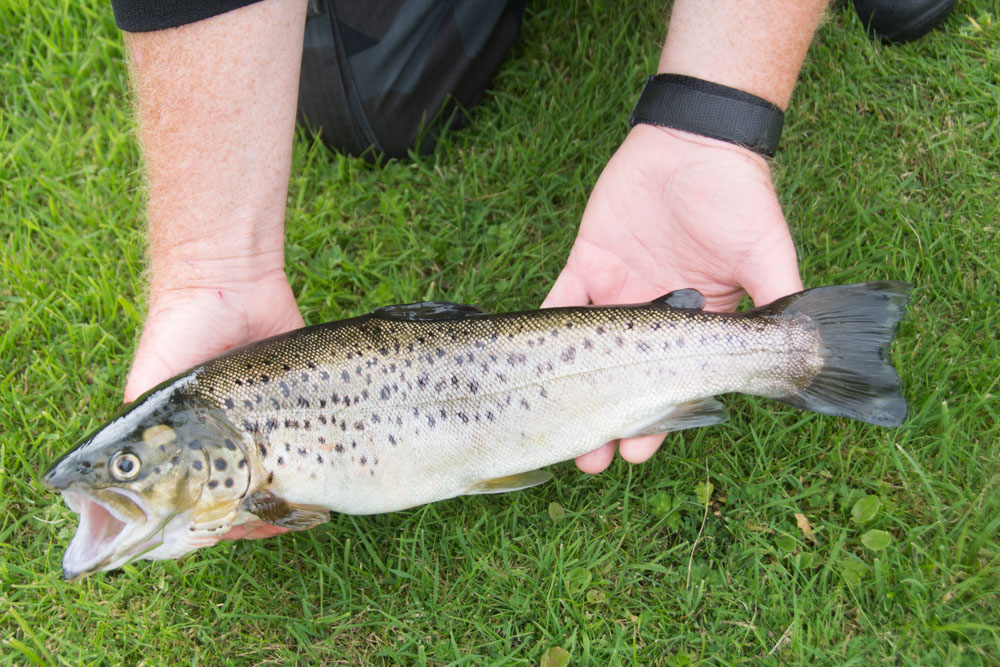 Mid September saw me team up with long time friends and Fishery Officers Kevin Crowley and Michael Patton in Donegal. Kevin and I enjoyed some good flounder fishing to get the trip off to a tidy start. The next day I was to fish by invite the Inland Fisheries Ireland boat competition held for people working for IFI, and having fished it once before it's a great event with the emphasis on fun and helping those with limited fishing experience. Though Kevin and I were kept busy looking after our "buddy" anglers on a very evil weather day I managed to win my boat and finish in the prizes for my team, The Western Region. Shortly after we joined with Mike P and jumped aboard another boat I've fished on a few times before, The Bundoran Star with skippers Pat Doherty and Brian Faulkner. We only had the afternoon to fish, but it was calm and warm for a change and we had great mixed fishing with some big coalies, plus I picked up a decent ling.
Kevin and I fished St John's Point in Donegal and enjoyed an exceptional day on the wrasse, with over 50 fish between us, but nothing really over 3lbs, plus some huge corkwing wrasse, to 10ozs, some of the biggest I've seen. We finished this trip with a pier trip that resulted in Mike Patton and I getting plaice, good flounder, conger to mid teens, wrasse to 3lbs, big corkies, and a host of other species.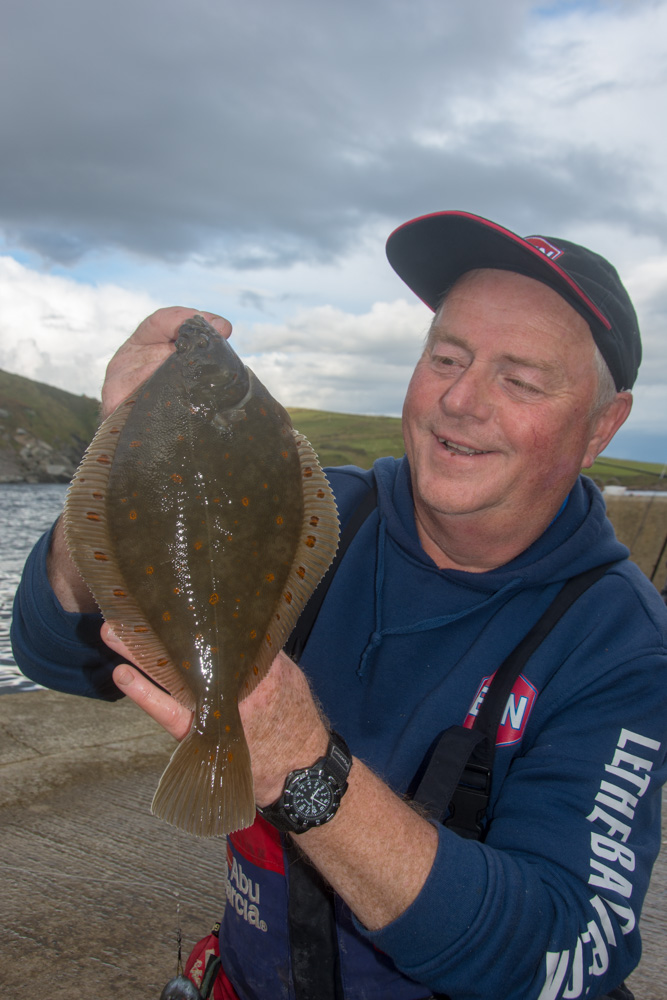 October saw me fishing in North Wales with another fishing buddy, Cardiff's Colin Albert. It was a species day with mainly mini's on the cards. We finished on 13 each, which off the shore is a cracking count. I signed off the local trout season on the next but last day with 11 fish to 3lbs, had to miss the whole of November without wetting a line, then had déjà vu on the trout when visiting Nine Oaks Fishery on the 1st of December and landing 11 trout to again 3lbs.
A few highlights then, but I was disappointed to not get the time to target any new species. People also asked me about bassing, but numbers were very poor locally, generally speaking, this in contrast to the south coast where numbers seemed better, and I personally didn't bass fish at all in 2017. Losing 9 boat trips through the year was also reflected in my sea species count which totalled only 34. Given how little I was able to sea fish, I feel this was ok.
So, naturally, I'm not overly sorry to see the back of 2017, but fishing wise I'm really looking forward to 2018. I have numerous things on my "to do" list. I want to push for new species, tiger trout, grass carp, and a giant goby come to mind as being the most possible, but I'll be quick to capitalise on any other opportunities that present themselves. I missed not being able to rock fish in 2017, so I'm aiming to be up on the rocks a bit more this coming year, plus I'm hoping to see fewer boat trips lost to the weather than has been the case over the past few years. I'll be out on the lakes and rivers flicking a fly for trout, sea trout and salmon, and will be looking to do more carp fishing too, as I'm really enjoying it. My target, as before, is a 20lb carp from the waters I fish, as they don't hold 30's and 40's. I'd also like to target catfish again and try and get my PB up. So, a fair bit to fit in, and no doubt plans will go awry and be altered to suit as the months move on, but that's the battle plan. I'll keep you posted on the good days, and the days when it might go a bit pear shaped and the fish win.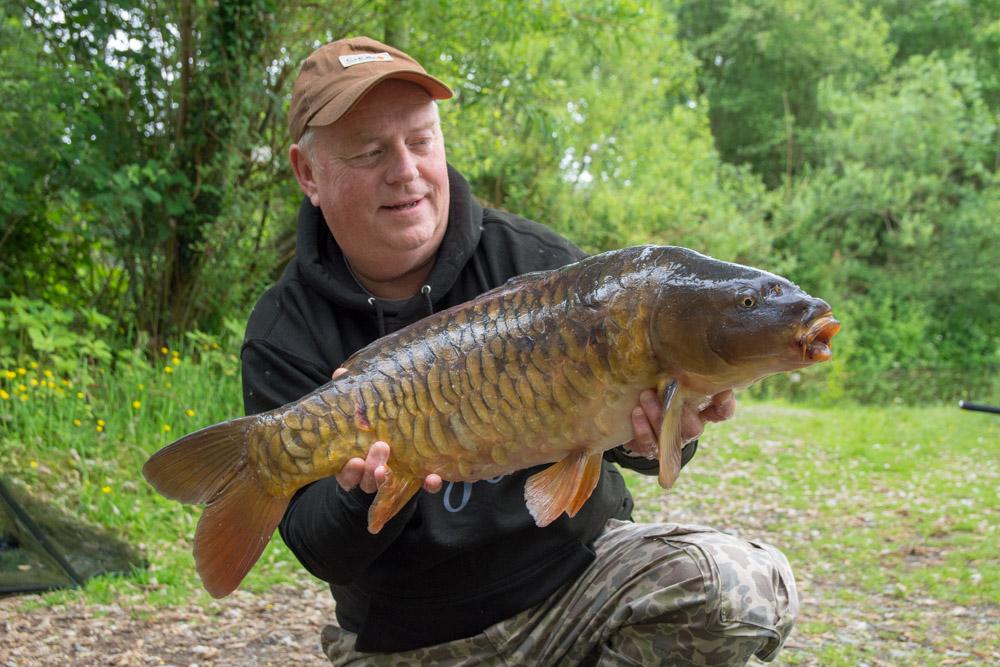 I'll take this opportunity to wish each and everyone of you a very Happy Christmas, a happy and prosperous New Year, and may 2018 see you catch your fish of a lifetime!
Mike Thrussell